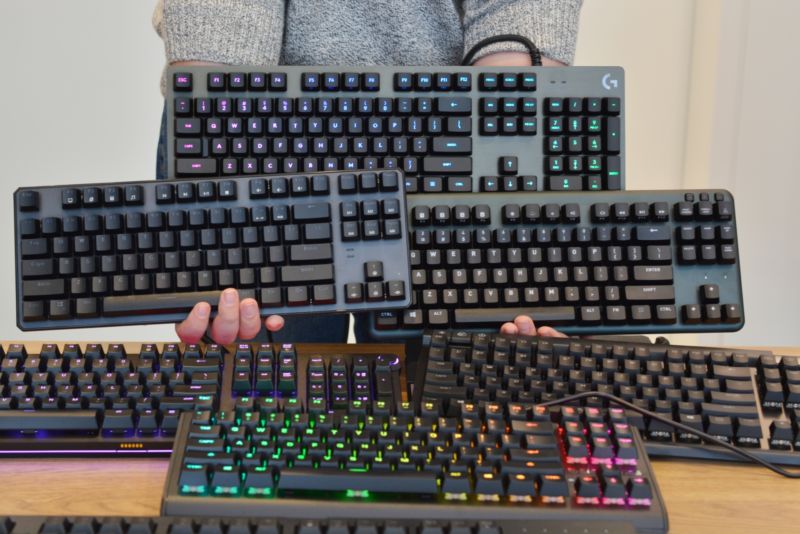 Welcome to Ars Gaming Week 2019! As a staff full of gamers and game-lovers, we'll be serving up extra reviews, guides, interviews, and other stories all about gaming from August 19 to August 23.
Creating the best PC gaming environment to suit your needs is more complicated than just building the ultimate PC from scratch. Once you have your dream machine, you'll need a mechanical keyboard, a gaming mouse, a high refresh-rate monitor, and other accessories. But deciding on the peripherals to invest in has become more difficult—sure, you have more options now than ever before, but the other side of that coin has birthed a congested world of PC gaming devices.
PC OEMs have embraced gaming with open arms, so much so that most PC companies have their own lines of gaming devices, and those often include desktops and laptops in addition to keyboards, mice, and the like. These new participants, along with the well-known gaming device OEMs, have made the pool of potential peripherals so large that one person alone could not sift through all of it.
So, we did the sifting so you don't have to—a few Ars writers spent more than two weeks benchmarking, testing, and trying out more than 60 of the best PC gaming keyboards, mice, headsets, and monitors you can buy today. We tested devices from PC OEMs like HP, Lenovo, Acer, and others, as well as offerings from accessory makers like Logitech, Fnatic, and more. We wanted to see what in today's crowded gaming PC market was worth buying and what should be avoided entirely, and below is our current list of the accessories we think are worth adding to any modern PC gaming rig.
Note: Ars Technica may earn compensation for sales from links on this post through affiliate programs.
Table of Contents
Best gaming keyboard
Logitech G512 Carbon
Specs at a glance: Logitech G512 Carbon
Price
$ 99
Switch type
Romer-G Tactile, Romer-G Linear, or GX Blue
Design
Aircraft-grade aluminum-magnesium alloy
Lighting
Customizable per-key RGB
Software
Free download
Dimensions
17.5 x 5.2 x 1.4 in (445 x 132 x 34 mm)
Weight
2.5 pounds (1,250g)
Extras
1 x USB passthrough
When considering a pre-made mechanical keyboard, you want a device that's durable, has good tactile feedback, and allows you to customize it in various ways. Logitech's G512 Carbon mechanical keyboard was the best one we tried that ticked all of those boxes and then some. First and foremost, we appreciate that the G512 Carbon comes in three models that only differ in their mechanical switches. You can get the exact same quality keyboard (at the same $ 99 price) with Romer-G Tactile, Romer-G Linear, or GX Blue switches, the first two being Logitech's own switches developed for its gaming keyboards.
Out of all of the switch options, we preferred the Romer-G Tactile switches the most. We preferred it because of its distinct actuation bump and satisfying, clicky sound. Not only did we enjoy gaming with this keyboard, but we liked typing on it as well. It's certainly louder than other keyboards you could use for general work, but for users who like that style of keyboard, it's a great multi-use device.
Customizable, per-key RGB lighting gives the G512 Carbon away as a gaming accessory, but otherwise it could pass for an attractive, regular mechanical keyboard. The G512 Carbon has a brushed-finish aluminum-alloy base that helps it visually separate from the solid black keycaps. It's fairly weighty at 2.5 pounds, but it's not too heavy to be cumbersome. We also appreciate that it feels sturdy and isn't prone to slipping and sliding when you use it on a desk.
RGB lighting is a staple in most gaming accessories—much to the chagrin of some, but to the pleasure of others. Logitech's gaming software lets you customize each key's lighting, and you can create and save lighting presets and animations onto the device itself thanks to its onboard memory. In a similar vein, Logitech's software also lets you customize the Fn keys depending on your preferred type of gaming.
The G512 Carbon is a wired gaming keyboard (like most others), so it will take up two USB-A ports on your machine if you want to use the keyboard with its lighting feature. However, one of the back corners of the G512 Carbon has a USB-A passthrough port as well, giving you charging and data-transfer capabilities in a more convenient location.
Gaming keyboards (and gaming accessories in general) can be bogged down with gimmicks, but Logitech's G512 Carbon isn't one of those accessories. It's a keyboard with a sturdy, attractive (but not ostentatious) design that you can make yours by first choosing your preferred switches and then customizing the fun stuff, like lighting and function keys. It also helps that its $ 99 price tag won't break the bank.
The Good
Attractive gaming keyboard with three switch options, all at a good price.
The Bad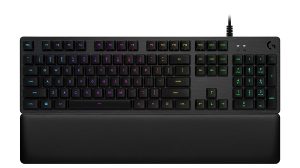 Logitech G512 Carbon
Best budget gaming keyboard
Tecware Phantom 87
Valentina Palladino

Valentina Palladino

Valentina Palladino

Valentina Palladino
Specs at a glance: Tecware Phantom 87
Price
$ 40
Switch type
Outemu blue, red, brown
Design
Plastic body, alloy backplate, double-shot keycaps
Lighting
Customizable per-key RGB
Software
Free download
Dimensions
14.2 x 5.3 x 0.89 in (361.5 x 133.5 x 22.5 mm)
Weight
2.09 pounds (950g)
Extras
Extra switches
Many things surprised us about the Tecware Phantom 87 mechanical keyboard. For starters, it doesn't look or feel as cheap as you'd expect a $ 40 mechanical keyboard to be. It has a plastic body, but its alloy backplate prevents flex and gives it more heft, which helps it stay in place when you're gaming or typing. The Phantom 87 has double-shot keycaps made by a dual-injection molding process that should help it withstand long-term wear and tear, and these keycaps feel pretty solid when you're typing.
Each key has customizable RGB lighting underneath, and we noticed less light bleed on the Phantom than on other, pricier keyboards we tested. The Phantom 87 also has more than 18 preset lighting modes, but you can download more and fiddle with customizations by using Tecware's free software.
The keyboard is available in red (50g linear), blue (60g tactile clicky), and brown (55g tactile bump) Outemu switches. It even comes with a few extra switches as well as a keycap remover for quick fixes and adjustments. We like the smooth typing experience of our Outemu red switches, but we did notice a slight echo when pressing some keys when our environment was relatively quiet. That's not a deal-breaker, but just be warned that the sound that the Tecware Phantom gives off isn't as rounded and crisp as other, higher-end mechanical keyboards.
Nevertheless, the Tecware Phantom is a hard mechanical keyboard to beat when it costs just $ 40. Most other gaming keyboards we tested came in around the $ 100 mark, and some cost upwards of $ 200. We believe the tenkeyless model (the one we tested) is best for most people, but Tecware sells the same Phantom keyboard in a 104-key model—and that costs just $ 50. Regardless of the model you choose, you'll get a solid mechanical keyboard that you can customize to your switch liking and that works well as a regular typing machine and an efficient and attractive gaming peripheral.
The Good
Affordable mechanical keyboard with a solid construction and multiple switch options.
The Bad
Slightly echo-y sound when typing.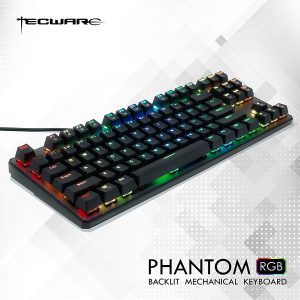 Tecware Phantom 87
Best tenkeyless gaming keyboard
Fnatic MiniStreak
Specs at a glance: Fnatic MiniStreak
Price
$ 76.49
Switch type
Cherry MX Red, Red Silent, Blue, Brown
Design
Anodized metal top plate
Lighting
Customizable per-key RGB
Software
Free download
Dimensions
14.2 x 5.6 x 1.4 in (360 x 142 x 36 mm)
Weight
1.36 pounds (704g)
Extras
Removable USB-C cable
Not everyone needs the functionality or bulk that comes with a number pad, and the Fnatic MiniStreak is the best tenkeyless mechanical keyboard for gaming that we tested. While the previously discussed Tecware Phantom also eschews a number pad, it's not as premium as the MiniStreak and its $ 40 price tag reflects that.
The MiniStreak's $ 76 price tag gets you an anodized aluminum top plate, well-stabilized keys, rubber gripping feet, and a removable leather wrist rest that can adjust into three different positions depending on what you find most comfortable. The bottom plate is plastic, but with the aluminum top plate, the body doesn't flex at all so you're getting a sturdy keyboard nonetheless. The keycaps aren't the most luxurious, but they'll suit most people just fine and they can easily be replaced if you feel inclined to do so.
You can get the MiniStreak in a variety of Cherry MX switches: Red, Red Silent, Blue, and Brown, and we found the Reds on our review units to be satisfying clicky but not too loud. These particular switches combined with the keyboard's compact profile make the MiniStreak a good all-purpose keyboard for those that prefer mechanical devices—you could use it around friends and coworkers without disrupting their workflows with too-loud clacking noises.
Like most gaming keyboards, it has customizable per-key RGB lighting and has eight lighting modes preinstalled. Fnatic's free software lets you customize the lighting even further, and it even has a "competition mode" that lets you turn off the lighting for specific keys (or all keyboard lighting), removing unnecessary distractions that could prevent a win during your next e-sports challenge.
We also appreciate the device's removable USB-C cable—not only is it encouraging to see a solid USB-C keyboard at a decent price, but this feature also enhances the MiniStreak's portability. It's already compact enough to fit into a backpack, and it's quite easy to move from room to room in your home, but that removable cable makes the entire device less cumbersome to pick up and move whenever you feel like it.
The Good
Solid tenkeyless keyboard made better by its compact size, removable USB-C cable, and Cherry MX switch options.
The Bad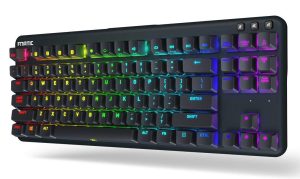 Fnatic MiniStreak
Honorable mention
Razer Turret
Specs at a glance: Razer Turret
Price
$ 249
Switch type
Razer mechanical Green switches
Design
Wireless (unified dongle for keyboard and mouse), built-in wrist rest
Lighting
Customizable per-key RGB
Software
Free download
Dimensions
With mousepad extended: 7.64 x 23.62 x 1.45 in (194 x 600 x 36.93 mm)
Weight
4.1 pounds (1,860g)
Extras
Included gaming mouse, retractable magnetic mousepad, dedicated Xbox key
We reached out to a variety of accessory makers in search of quality gaming-caliber keyboards, and they sent us a ridiculous pile of options. But in all of our testing, one sector came up surprisingly short: mechanical keyboards with built-in wireless functionality.
Thankfully, the best one—the Razer Turret—proved so comfortable, heavy, and useful that we're happy to give it an honorable mention nod in our list. But it's by no means an obvious choice for anybody who wants to lug a gaming keyboard onto a couch. The biggest sticking point is the exorbitant price. $ 250? Does this thing double as a foot massage pad or a math tutor?
In good news, that price includes a matching Razer Mamba Wireless mouse (scroll down for our specific take on that model). What's more, the keyboard includes a terribly clever built-in mouse pad… with a pinch of magnetism! Press a long, thin switch on the bottom of the keyboard to pull this flat mouse pad out, and it will lock into place to deliver a reasonable pad (8.25 inches wide by 7 inches tall).
This magnetism is a great bonus if you want to do any fragging from the comfort of your couch. After a month of testing this as a daily driver, Ars' Sam Machkovech has determined that the pad doesn't impede mouse movement in the slightest, but the magnetism does keep the mouse pleasantly stable when shifting the keyboard's body around on a lap.
At roughly 4.1 pounds, the keyboard's welcome heft feels good on a lap, thanks to a wholly rubberized bottom. And the key travel on Razer's custom switches is comparable to Logitech's GX Blue switch option—the tiniest bit spongy in travel, but still lightning-fast in terms of response and satisfyingly clicky.
The biggest complaint we had about our review model was an occasional issue where we'd release a keystroke, but the Turret would act like the button was held down. Turning the keyboard off and back on again fixed this, but this annoyance was a rare outlier for otherwise blindingly quick wireless performance as served by a small USB Type-A adapter.
There's also the matter of the Razer's matching wireless mouse taking as long as 10 seconds to turn back on once it goes to sleep. We didn't notice this problem with other standalone Razer mice, but it only happened after extended periods of inactivity. At $ 250, we could see either or both of those issues being deal-breakers. But until we test a more satisfying wireless gaming keyboard, we're living with 'em.
The Good
Reliable wireless mechanical keyboard that comes with an equally solid wireless mouse.
The Bad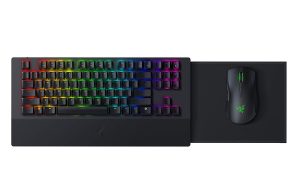 Razer Turret
Best wired gaming mouse
Razer DeathAdder Elite
Specs at a glance: Razer DeathAdder Elite
Price
$ 44
Design
Wired, right-handed design with rubber size grips, Razer mechanical mouse switches
DPI
16,000 DPI optical sensor
Lighting
Adjustable Chroma RGB lighting
Software
Free download
Buttons
7 programmable buttons
Dimensions
5 x 2 .76 x 1.73 in (127 x 70 x 44 mm)
Weight
0.23 pounds (105g)
Battery
1 x AAA
Razer's DeathAdder Elite gaming mouse is well-loved for good reason. For $ 44, this relatively unassuming mouse combines most necessary features for gaming into a well-designed wired mouse that could feasibly be used during work and play. While you won't mistake the DeathAdder for a regular mouse, it doesn't have a ton of garishly "gamer" elements besides the Razer logo and the scroll wheels that light up in a multitude of RGB colors.
Weighing 0.23 pounds, the DeathAdder Elite is pleasantly lightweight but not too much so. Its top bump isn't too pronounced either, so your hand won't get fatigued using it. We appreciate its seven customizable buttons (most of which are within easy reach of your fingers during use) and its scroll wheel (which has rubber grips on it for more accurate use).
Razer uses a 16,000 DPI optical sensor in the DeathAdder Elite, and you can customize the DPI buttons to your liking. Razer also worked with Omron to make the DeathAdder Elite's mechanical switches that are built for speedy response time. We saw no lag while using the mouse for gaming in addition to regular work, and unlike other gaming mice, its design only aided gameplay rather than getting in the way.
If you snag a DeathAdder Elite to use as an all-purpose mouse, you may want to use Razer's Synapse software to customize RGB lighting to be a bit more subdued than usual. The Chroma lighting system can render millions of colors, but that could get distracting in an office environment. But if you're not concerned with light or don't want to do much customizing right away, you can skip the Synapse software and use the mouse as is. We think the DeathAdder Elite's ease of use, comfortable design, accurate performance, and solid $ 44 price tag make it the best gaming mouse for most people.
The Good
Fast, accurate, and well-designed gaming mouse at a good price.
The Bad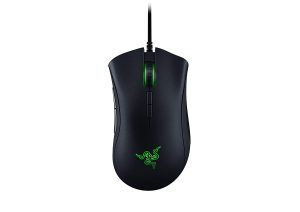 Razer DeathAdder Elite
Runner-up gaming mouse
Razer Basilisk
Specs at a glance: Razer Basilisk
Price
$ 53
Design
Wired, right-handed design with rubber size grips, Razer mechanical mouse switches, removable DPI clutch, scroll-wheel dial
DPI
16,000 DPI optical sensor
Lighting
Chroma RGB adjustable
Software
Free download
Buttons
8 programmable buttons
Dimensions
4.88 x 2.94 x 1.69 in (124 x 75 x 43 mm)
Weight
0.24 pounds (107g)
Battery
1 x AA
If you're competing in e-sports tournaments or just want a mouse with more versatility, Razer's Basilisk may be what you need. It's smaller yet slightly heavier than the DeathAdder Elite, and it has a few extra perks that give you more control over your mouse input. In addition to the mechanical mouse switches found on the DeathAdder Elite, the Basilisk has onboard memory to store profiles, a customizable scroll-wheel dial, and a removable DPI clutch.
The scroll-wheel dial lets you choose how much resistance you want the scroll wheel to have. That way, you can use it more precisely. We already appreciated Razer's texturized scroll wheels on its other gaming mice, but the addition of the scroll-wheel dial gives you even more control over the feel of the scroll wheel and its overall performance.
The DPI clutch sticks out of the left side of the mouse, where the extra thumb rest is, and comes in a couple sizes. You can choose the right-size clutch for your finger, and then use it to temporarily change the DPI sensitivity for speedier or more accurate performance. You can still change a few of the eight customizable buttons to control DPI sensitivity, but the clutch makes it more convenient to change when you need it most. And since the change is only active when holding down the clutch, you can go right back to your preferred default DPI level immediately as well.
That level of customization adds to the Basilisk's price tag a bit, but it's not that much more expensive than the DeathAdder Elite at $ 53. It's a solid option that professional gamers, or gamers looking to up their skills, can feel confident buying.
The Good
Good gaming mouse with extra customizations to accommodate gamers' needs.
The Bad
Designed for right-handed users.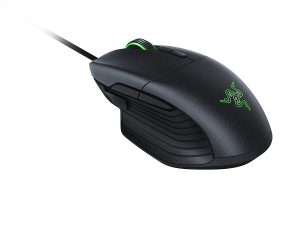 Razer Basilisk
Best wireless gaming mouse
Razer Mamba Wireless
Specs at a glance: Razer Mamba Wireless
Price
$ 82.16
Design
Wireless
DPI
16,000 DPI optical sensor
Lighting
Chroma RGB adjustable
Software
Free download
Buttons
7 programmable buttons
Dimensions
4.95 x 2.75 x 1.70 in (125.7 x 70.0 x 43.2 mm)
Weight
0.21 pounds (106g)
Battery
Built-in rechargeable
If you like the DeathAdder Elite but would prefer a wireless mouse, the Razer Mamba Wireless is the best option. It looks and feels similar to the DeatherAdder Elite, except for a few differences: its side grips have more pronounced grooves in them, and the rubberized scroll wheel has more texture.
But otherwise, and particularly in specs, the Mamba Wireless is the cordless cousin to the DeathAdder Elite. It has a max DPI of 16,000, seven programmable buttons, and hybrid onboard memory plus cloud storage for saving lighting and other use profiles. If you download Razer's Synapse software, you can customize RGB lighting modes, the side buttons, and more to fit your gaming needs.
The mouse connects wirelessly to your PC using an included USB receiver, and Razer included adaptive frequency technology to ensure a more stable connection. We never had any problems in terms of connectivity with the Mamba Wireless, and we didn't experience any lag or Bluetooth drop-off while using it. It's just as responsive as the DeatherAdder Elite as well, so you're not sacrificing much by investing in this wireless mouse.
The only problem (for some) will be battery life. We never had to recharge the Mamba Wireless in the two-ish weeks we spent testing it, and Razer estimates it will last up to 50 hours on a single charge. Since it has a built-in rechargeable battery, you will have to carry around an extra cable to power the Mamba up again if it were to die on you unexpectedly. But with wireless accessories slowly becoming the norm, that's a small price to pay for an otherwise solid gaming mouse.
The Good
Well-designed wireless gaming mouse with a stable connection and response rate of a wired mouse.
The Bad
Runs on a lithium-ion battery (rather than a AA or AAA battery).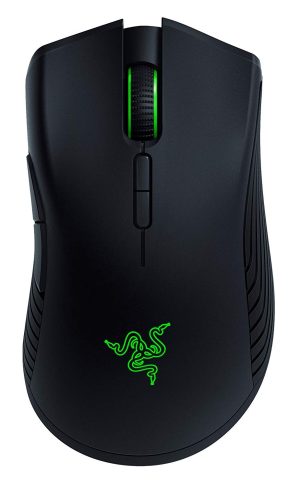 Razer Mamba Wireless
Best budget wireless gaming mouse
Logitech G305 Wireless
Specs at a glance: Logitech G305 Wireless
Price
$ 47.79
Design
Wireless
DPI
12,000 DPI Hero optical sensor
Lighting
Non-adjustable
Software
Free download
Buttons
6 programmable buttons
Dimensions
2.5 x 1.5 x 4.6 in (116.8 x 63.5 x 38.1 mm)
Weight
0.22 pounds (99g)
Battery
1 x AA
Logitech's G305 Wireless stood out thanks to its small, unassuming profile, its whip-fast performance, and its low price tag. At just under $ 50, it's one of the most affordable wireless gaming mice we tried, and you don't sacrifice much of consequence if you get it. It has a basic black plastic design, but it includes a rubberized scroll wheel and six programmable buttons. That's only one less than our top wireless mouse, the Razer Mamba Wireless.
The G305 Wireless also has a max 12,000 DPI level, which is lower than the Mamba Wireless' 16,000 maximum. The G305 Wireless also has onboard memory to support up to five saved DPI profiles, making it easier for you to switch between them on a whim.
Although the G305 may not have the same DPI max as the Mamba Wireless, it's still a mouse with fast response times thanks to its Hero optical sensor inside. Its gaming-level performance and accuracy makes it arguably the best choice out of all of our picks for all-purpose use—it's the equivalent of a solid gaming mouse disguised as a normal wireless mouse thanks to its design. While some will demand a certain look from their gaming peripherals (and the ability to change lighting settings, which the G305 doesn't support), others will be happy to get gaming-accessory performance in a lightweight, simple package.
Unlike the Mamba Wireless, which has a built-in rechargeable battery, the G305 Wireless takes one AA battery and will last about 250 hours before that battery needs replacing. We appreciate this choice because there's nothing worse than taking out an accessory to use only to find out that its rechargeable battery is dead. AA batteries will last longer than a rechargeable battery, ensuring you'll get roughly nine months of continuous use out of the G305 Wireless—no pesky recharge time required.
The Good
Speedy, affordable gaming mouse that doesn't scream "gamer."
The Bad
No customizable lighting.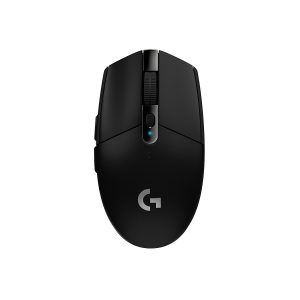 Logitech G305 Wireless
Best gaming headset
Cooler Master MH751
Jeff Dunn

Jeff Dunn

Jeff Dunn

Jeff Dunn

Jeff Dunn
Specs at a glance: Cooler Master MH751
Price
$ 79.99
Compatibility
3.5mm headphone jack for PC, PS4, Xbox, Switch
Drivers
40mm Neodymium
Mic
Yes, detachable
Design
Cushioned earcups, leatherette pads, collapsable
Of the 30 gaming headsets we tested, the Cooler Master MH751 is the best purchase for most people. At $ 80, it's an exceptional value in both sound quality and comfort, with a good mic to boot.
The MH751's secret is that it's not original. Cooler Master essentially took a Takstar Pro 82—Chinese budget headphones that have become a sort-of cult favorite among audio enthusiasts—tweaked the build materials, removed the bass adjustment slider, swapped out the 2.5mm cable for a standard 3.5mm option, and added a detachable microphone. What the headset lacks in creative ambition, though, it more than makes up for in quality.
The MH751's sound isn't flat, but it skews closer to a neutral sound than most gaming headsets. It doesn't give particular preference to the bass, mids, or treble. Instead, it mostly reproduces a game's audio as it was mixed, with clean mids and just enough bass. Soundstage is impressive for a sub-$ 100 closed-back pair of headphones, and imaging is a plus—it's easy to pick out where shots are coming from in a game of Apex Legends, for instance.
If we were to nitpick, the treble can get a little fatiguing at maximum volumes, but most people shouldn't be listening at those levels anyway. Some may also prefer a more boosted bass to emphasize explosions and such, but that's not a fault of the MH751; its low-end is just more natural-sounding. And while Cooler Master doesn't include 7.1 virtual surround sound, in practice that's not a big loss—there are 7.1 headsets that do a worse job of creating spatial awareness than the MH751 does inherently through its sound signature.
The MH751's biggest strength, though, is its design. The Takstar Pro 82's chassis takes after old Sony headphones called the MDR-1A, which are among the most comfortable closed-back headphones in existence. As a result, the MH751 is supremely pleasant to wear for hours at a time. It's lightweight, the pleathery earpads rest soft against the side of the head, and the headband, while not as heavily padded, isn't stiff in the slightest. (One trade-off of the soft fit is that it doesn't isolate outside noises as well as some other closed-back headphones, but it's not bad, and in the context of gaming at home, it's not a huge downside.) The headband is generously adjustable, too, so those with larger heads shouldn't have trouble keeping headphones on for extended periods.
Refreshingly, this is also a gaming headset that doesn't look like a gaming headset. The build is largely plastic, but it doesn't come off as flimsy, and the earcups have a pseudo-sanded finish that at least feels nice. There's no gaudy logo or RGB lighting to be found; it wouldn't look out of place at all to detach the MH751's mic and simply wear them as wired headphones with a balanced sound. That microphone isn't world-class, but it does well to make vocals clear and suppress outside noises. The braided cable is a bit long for portable use, but it is detachable, and it has a locking mechanism that keeps it in place securely when hooked up. The only notable negative is that the earpads are glued to the headset in a way that makes them difficult to replace, but that should only be an issue to tinkerers who prefer to mod their equipment.
The MH751 isn't as feature-rich as some of its peers, but it nails the fundamentals of any good gaming headset—comfort, detailed sound, a clear mic, comfort again—and doesn't look like it was designed by a fourth-grader. It's an easy recommendation.
(Note: the MH751 normally retails for $ 80, but it became somewhat low in stock online in the days before this guide was published. A Cooler Master representative told us the shortage is only temporary, so it should be wildly available again in the near future, but as of this writing its price has fluctuated a bit.)
The Good
Supremely comfortable headset with balanced sound and understated design.
The Bad
Some may prefer more bass in sound signature.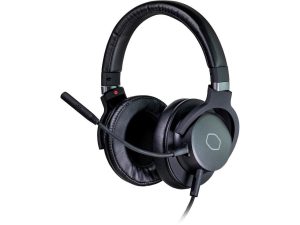 Cooler Master MH751
Best budget gaming headset
Kingston HyperX Cloud Stinger
Specs at a glance: HyperX Cloud Stinger
Price
$ 49.99
Compatibility
3.5mm headphone jack
Drivers
50mm directional
Mic
Yes, swivel
Design
Memory foam earcups, adjustable steel slider, built-in passive noise cancellation
The Cooler Master MH751 is often on sale between $ 60 and $ 70, and it's worth the premium over any budget gaming headset if you can swing it. But if you're determined to spend no more than $ 50, get the HyperX Cloud Stinger. Compared to the MH751, its mic isn't detachable, its design feels cheaper, its earpads are stiffer, and it has a more "gamer-y" aesthetic. Still, for the price, it's above-average in audio, comfort, and microphone quality.
Unlike the pleasant and balanced sound of the MH751, the HyperX Cloud Stinger's audio profile is more energetic and bass-heavy. We've described it in a previous gift guide as "V-shaped," and that's still the idea—it boosts the bass and treble and recesses the mids, so it sounds more fun than accurate or particularly detailed. This isn't as bad with gaming as it would be with music, though. Having such a powerful low-end gives explosions more explosions, and the more prominent treble makes ambient sounds more immediate. Imaging is strong as well. This isn't a profile for audio purists, but it's much more enjoyable than annoying.
You sacrifice some level of build quality with any cheaper gaming headset. The Cloud Stinger, with its plastic-heavy build and non-detachable mic, is no different. It's not built to travel far from your gaming rig. It also leaks a fair amount of noise at louder volumes, and it's not great at isolating external sounds. But even if its padding isn't as plush as that of the MH751, it's not fatiguing to wear for longer play sessions. And the microphone is great for a sub-$ 100 headset; voices don't sound as sharp as they do on HyperX's pricier models, but they do come off full, and they come through clearly in louder environments.
The Cloud Stinger has obvious shortcomings, but most people on a budget should find its trade-offs manageable. Just be absolutely sure there's no way expand your budget first.
The Good
Fun sound and good mic for the price.
The Bad
Plastic build means cheaper feeling construction.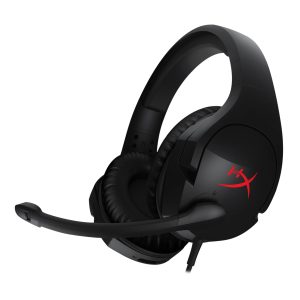 HyperX Cloud Stinger
Best gaming monitor
Gigabyte Aorus AD27QD
Jeff Dunn

Jeff Dunn

Jeff Dunn

Jeff Dunn

Jeff Dunn

Jeff Dunn

Jeff Dunn

Jeff Dunn

Jeff Dunn
Specs at a glance: Gigabyte Aorus AD27QD
Price
$ 569.99
Size
27 inches (16:9 aspect ratio)
Resolution
2560×1440
Refresh rate
144Hz, FreeSync
Panel type
IPS
Ports
1 x DisplayPort, 2 x HDMI, 2 x USB-A ports, 1 x headphone jack, 1 x lock slot
Dimensions
24.21 x 19.08 x 9.33 in (614.9 x 484.7 x 236.9 mm)
Extras
Active noise control, Game Assist software
After testing more than a dozen gaming monitors, it's hard for us to say one monitor is the out-and-out best: what size you prefer, what kind of graphics card you use (if any), and whether you prioritize image quality or fast motion can all vary by user. But if we were forced to pick one monitor to satisfy the widest swath of people, we'd go with the Gigabyte Aorus AD27QD.
This is a 27-inch panel, which is probably the sweet spot between having ample screen space and fitting neatly on most desks. Its 1440p resolution is probably also the sweet spot between getting more onscreen without being overkill for gaming purposes. The AD27QD is an IPS-type panel—technically an Innolux AAS panel, but the end result is similar—with excellent out-of-the-box color accuracy, good viewing angles, and strong peak brightness. It has a wider-than-usual color gamut for a panel like this, which results in more vivid reds and greens. (We'll note that this is technically an 8-bit+FRC panel instead of offering true 10-bit color depth, but for most consumer and gaming purposes, that doesn't make much of a practical difference.)
The monitor's contrast is good for an IPS-type panel as well, though it can't really match the higher contrast of the best VA panels, which have deeper blacks and thus look better in a dark room. Likewise, the panel's uniformity is merely average, with some clouding apparent on mostly black screens. And while Gigabyte advertises this as an "HDR" panel, that's only true in the technical sense—like all but the highest-end monitors, the AD27QD doesn't have the peak brightness or local dimming support to produce meaningful HDR highlights. Still, all told, it's an impressive performer.
As a gaming monitor, the Aorus AD27QD handles motion blur and response times particularly well. It supports up to a 144Hz refresh rate and keeps input lag to a minimum. It has native support for AMD's FreeSync variable refresh rate (VRR) tech, from 48-144Hz, meaning it can adjust refresh rate on the fly within that range to keep whatever you're playing looking smooth. There is low-frame-rate compensation (LFC) for when you dip below that VRR range.
It supports FreeSync over its DisplayPort and HDMI ports for both PCs and Xbox One. That's great if your rig runs on an AMD graphics card, but the monitor is also certified as "G-Sync Compatible" by Nvidia. So those with an Nvidia GeForce card can still make use of the VRR tech. (The latter only works over DisplayPort, a cable for which is included in the box.)
The only major complaint here is that the panel can introduce some pixel overshoot at lower refresh rates in its "speed" overdrive mode—effectively making "halo" artifacts around objects. If you can keep your game close to 144Hz, this won't be a problem. But you'll have to switch to a different overdrive mode (and thus give up a little response time) to avoid this when you're closer to 60Hz.
As a piece of hardware, the Aorus AD27QD is convenient. It's a breeze to set up, for one, requiring just one screw to connect the panel to its stand. Its one-button control joystick is easy to find and operate, and its on-screen display settings are clean and clear. The V-shaped stand isn't the most compact thing for a desk, but it's not massive. The monitor can be swiveled and tilted freely, and its borders are thin. There are no built-in speakers, but its port selection is solid, including one DisplayPort 1.2 port, two HDMI 2.0 ports, two USB 3.0 ports, a mic-in port, and a 3.5mm audio out jack. It does have mild RGB lighting effects on its back, but that is customizable if you don't dig the "gamer" look.
At $ 570, the Aorus AD27QD isn't exactly cheap. But its excellent gaming performance, expansive feature set, and pleasing picture quality for everyday use make it a worthwhile purchase.
The Good
Accurate colors and great motion handling for fast-paced games.
The Bad
IPS-type panel means contrast isn't as strong as competing VA monitors.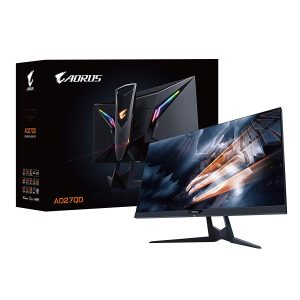 Gigabyte Aorus AD27QD
Best budget gaming monitor
ViewSonic XG2402
Specs at a glance: ViewSonic XG2402
Price
$ 239.99
Size
24 inches (16:9 aspect ratio)
Resolution
1920×1080
Refresh rate
144Hz, FreeSync
Panel type
TN
Ports
1 x DisplayPort, 2 x HDMI, 2 x USB-A ports, 1 x headphone jack, 1 x audio out port, 1 x lock slot
Dimensions
22.3 x 17.1 x 9.4 in (566.0 x 433.9 x 239.2 mm)
Extras
Game Mode software
If you just can't pony up the cash needed for the Aorus, the ViewSonic XG2402 is a great budget-level alternative at just $ 230.
The XG2402 is only a 24-inch 1080p panel, but it has truly superb response times, wonderfully low input lag, and next to no motion blur, ghosting, or overshoot. It, too, supports FreeSync, with a 48-144Hz VRR range and LFC for when the frame rate drops too low. With a capable rig, the result is persistently smooth motion, even in faster-paced shooters like Counter-Strike: Global Offensive or Overwatch. And while the XG2402 isn't officially G-Sync Compatible, it does still work with Nvidia cards.
The catch is that you really need to get the XG2402 for gaming purposes for it to be worthwhile. Apart from the trade-offs in screen size and resolution, its contrast, viewing angles, and luminance uniformity are all subpar. This is a TN panel, so these shortcomings come with the territory, but the washed-out colors are a significant drop-off from those on a good IPS panel like the AD27QD. This is mitigated somewhat when you're actually playing a game, but for Web browsing and movie viewing, it certainly comes off like a cheap monitor.
In the plus column though: the monitor is simple to setup, with no tools required to get it situated. Its stand is basic, but it lets you tilt, raise, and swivel the monitor fairly freely. The AD27QD does include (weak) built-in speakers, and it comes with one DisplayPort 1.2, two HDMI 1.4 ports, two USB 3.0 ports, and a 3.5mm audio out port. The multi-button control setup isn't the most intuitive, though, and the on-screen display, while comprehensive, can require a little more clicking than we'd like. We're not crazy about the red streaks on the back of the monitor, either, but the whole thing isn't outright gaudy.
Besides, we're looking at gaming monitors here, and the XG2402's gaming performance is just so supreme that it's worth putting up with those smaller issues. If you don't care about gaming above 60Hz, feel free to look elsewhere—we've previously recommended BenQ's GW2765HT is a good-looking IPS panel around the same price—but if you want ultra-fast responsiveness for less than $ 250, it's hard to do better than this.
The Good
Top-notch motion handling and minimal input lag for less than $ 250.
The Bad
TN panel results in washed-out colors and poor viewing angles, particularly in non-gaming content.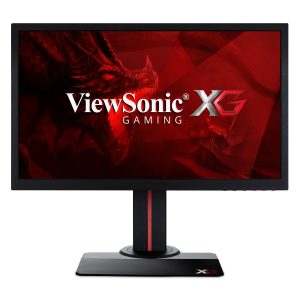 ViewSonic XG2402