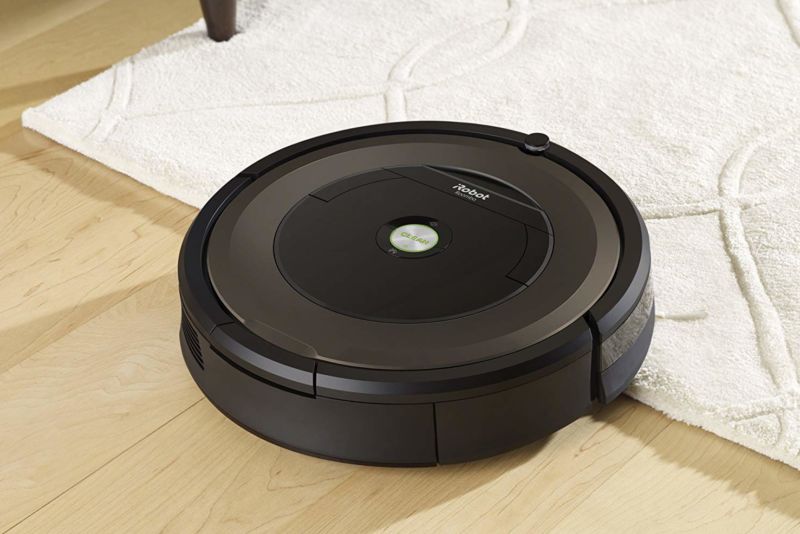 We could all use a little more help around our home, and luckily now there's a lot of tech that can lend a hand. So that's where we're looking for our latest holiday gift guide. There are a plethora of smart home devices that can do everything from lock your doors, vacuum your carpets, or keep a watchful eye over your possessions while you're away.
Wading through the ocean of smart home tech isn't easy—and, admittedly, much of the smart home space is not worth your time or your money. However, we've tried (and personally purchased) many home tech devices that actually do deliver on what they promise. These items make keeping your home how you like it much easier.
Not all of the home tech we recommend falls into the large and nebulous category of "the Internet of Things," either—some are kitchen appliances, home speakers, gaming accessories, and other devices that most people primarily use in the home in order to make that space feel more like our own. So after a lot of lived-in testing time, here's all of the home tech that we think would make great gifts this holiday season.
Note: Ars Technica may earn compensation for sales from links on this post through affiliate programs.
Philips Hue lights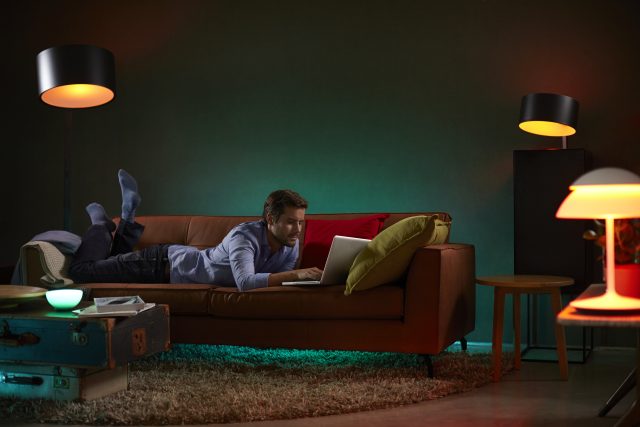 One of the easiest ways to start making your home smarter is with smart light bulbs and Philips' Hue line are a good option. First, you can get white or color bulbs—while most will be happy with plain, ol' white, color bulbs can be fun if you want to add personality to a room with color-changing light scenes.
Second, all Hue bulbs connect to a bridge that comes with most Hue starter packs. The bridge helps the lights communicate with each other and with your home Wi-Fi, which is how you control them. Using the Hue mobile app, you can turn on and off individual lights or entire rooms lights, dim them to your liking, and set schedules. You can have all the lights in your home come on before you arrive home from work, so you're not walking into a dark house.
Third, Hue light bulbs connect to a bunch of other smart home systems like Works with Alexa, IFTTT, Apple HomeKit, the Google Assistant, and more. That means you can control your lights using voice commands or other smart commands that you customize. Not only are Hue lights an easy and affordable way to get into smart home tech, but they also make the lights in your home even more convenient to control on a regular basis.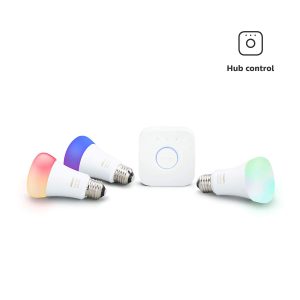 Philips Hue White and Color starter set
Zojirushi rice cooker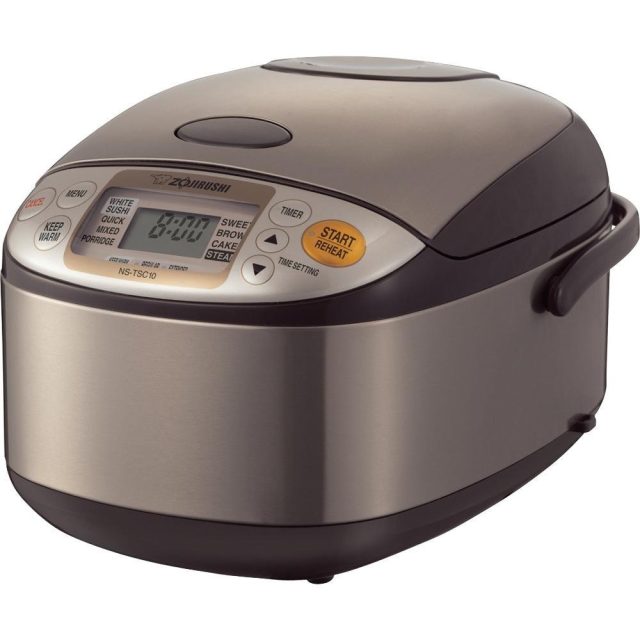 I make a lot of rice and I've gone through at least two rice cookers in the process. After my last $ 25 rice cooker broke on me, I decided to invest in the Zojirushi NS-TSC10 Micom rice cooker and—this is not hyperbole—it's changed my cooking life. Gone are the days of burnt or undercooked rice as Zojirushi's magical machine has propelled me into a world where all kinds of rice are cooked to perfection every single time.
I attribute this to actually reading the directions that come with the rice cooker. If you do this and follow the instructions, washing the rice before cooking and using the proper settings on the cooker itself, everything made in this machine will be tasty. In addition to rice, Zojirushi's machine comes with a steaming basket for steaming vegetables and other foods, and it even has a cake setting.
But the machine truly shines making rice. You don't have to guess how much water to include as the interior pot has indicators for that, and you don't have to guess cooking times either. The machine senses how much rice and water you put into the pot and automatically sets the cooking time. All you have to do is wait for it to play a cute little jingle as soon as your rice is done and then experience rice heaven. I'll never go back to a cheap rice cooker again, and I implore anyone who eats a lot of rice to consider a Zojirushi machine.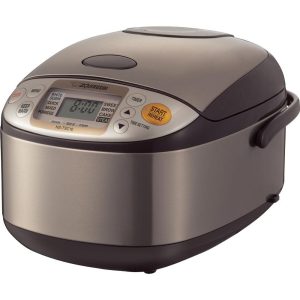 Zojirushi NS-TSC10 rice cooker
Luigi's Mansion 3, Marvel's Spider-Man
There are few better ways for one to enjoy their home theater than holing up with a good game. If you know a Nintendo Switch owner in search of a new title, Luigi's Mansion 3 is a good shout. It's got that nebulous Nintendo charm: it's adorable, funny in both writing and atmosphere, and it has a spirit of pure play at its core, unburdened by overbearing snark or grittiness. You play as Mario's loving yet easily frightened brother as he vacuums up a haunted hotel's worth of ghosts and saves his trapped friends. The way Luigi controls his "Poltergust" vacuum could be more precise, but all told it's the kind of mass appeal game that makes for a safe gift. The fact that the story is playable in co-op—albeit after a 90-minute wait—should only raise that appeal. The fact that your companion is Gooigi, literally a Luigi made of goo, should signal just how "Nintendo" the game is.
If your loved one plays more on the PlayStation 4, we'll go back a year and recommend Marvel's Spider-Man. Again, we're thinking about wider appeal here: this game's flowing, rhythmic combat and graceful web-swinging is consistently pleasurable to the senses. It's not a high-stakes game, with a story that is perfectly competent but intellectually unchallenging, and the whole thing is a pure power fantasy. But it's something like the platonic ideal of a power fantasy: there are no guns, no moral ambiguity, and no clunkiness, plus it's polished as hell. If your loved one hasn't give it a shot, you'll be giving them a game that goes above and beyond to make them feel good.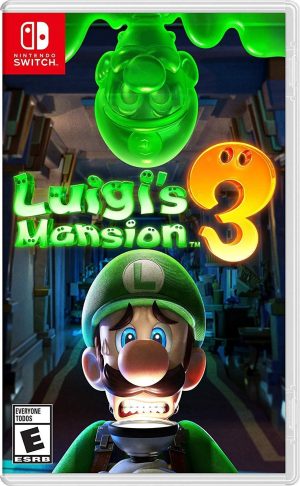 Luigis Mansion 3
Xbox Game Pass subscription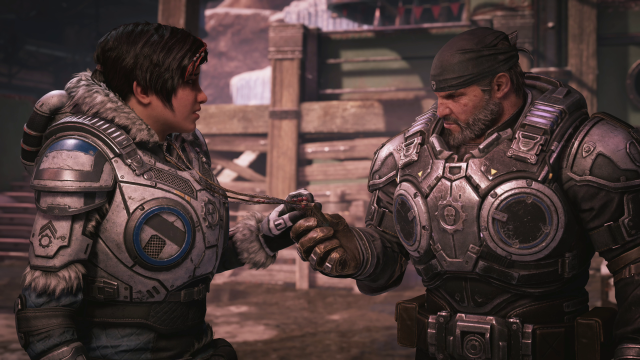 For Xbox owners, we think gifting a subscription to Microsoft's Xbox Game Pass is a better value for both you and your recipient than buying one specific game. For the price of one new release, it gives six months of access to a couple hundred titles, all of which can be downloaded and played locally. That library has become much stronger in recent months, with blockbusters such as Gears 5, Forza Horizon 4 and The Outer Worlds available alongside less-marketed gems like Subnautica and Outer Wilds. There are dozens more games worth playing beyond that.
It's become clearer and clearer that Microsoft sees this kind of subscription as the future of how it sells games on Xbox (and PC), but it's hard for most people to complain when the value proposition is this high. Microsoft has also confirmed that Game Pass will "bridge" the current Xbox One and the next Xbox console, so you won't be getting your loved one's hopes up if they enjoy the subscription but want to move to a new console in 2020. And if they end up gravitating toward the PlayStation 5, you'll at least have bought them enough time to play a bunch of great games.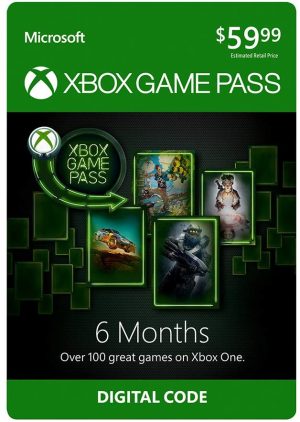 Xbox Game Pass 6-month membership (digital code)
Sega Genesis Mini retro console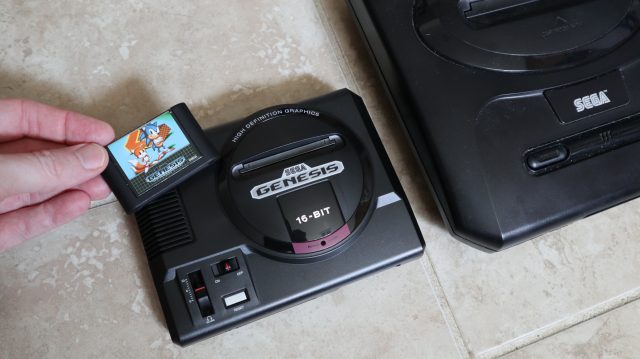 For those who think those modern games can't match the best of the 16-bit era, the Sega Genesis Mini should bring a smile to their face. It is yet another in the long line of nostalgia-fueled "retro consoles," but even at a relatively hefty $ 80 MSRP, it does all the common sense things this kind of device should. You don't get the old six-button controller, but the included pair of three-button pads are faithfully recreated with cables that aren't overly short. The interface is easy to navigate. Each game comes with four save slots that let you freeze progress at whatever point you want. (A "rewind" feature a la the SNES Classic would have been nice, but it's no dealbreaker.) And outside of some very minor audio delays, the technical emulation quality is excellent.
Most importantly, though, the game lineup is superb and diverse. Sonic The Hedgehog, Ecco The Dolphin, Earthworm Jim, Street Fighter II, Shining Force, Gunstar Heroes, Shinobi 3, Contra: Hard Corps, Streets of Rage 2—the list of classics here runs deep. Licensing issues likely kept some gems off the list—particularly when it comes to sports games—but there are very few weak points or question marks in the Mini's set of 42 games. Most remain perfectly enjoyable in 2019. (Particularly with the ability to save anywhere.) Yes, it's possible to gain access to these games for free through legally hazy methods, but the Genesis Mini provides a more authentic trip back in time. For a Sega aficionado or just anyone who'd like to experience a piece of gaming history they may have overlooked, it's an easy recommendation.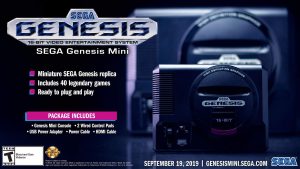 Sega Genesis Mini
Witeem surge protector
Living in a small space means having a limited number of outlets, and that isn't convenient when you have numerous personal and work electronics all over the place. Most outlets in my apartment have a surge protector plugged into them to make this a bit easier—as a result, I have a lot of surge protectors. The best I've purchased as of late has been the Witeem smart surge protector, an accessory with six outlets and four USB-A ports that can handle numerous electronics plugged in at once.
These get the most use in my office and in my living room, where in the former the surge protector powers my Thunderbolt 3 dock (and, subsequently, my laptop), my 32-inch monitor, my printer, my shredder, and at least one other review product on a daily basis. In my living room, the surge protector typically has a couple lights, a humidifier, and a smartphone or two charging up all at once. It's a solid surge protector not only because it provides juice to everything I need simultaneously, but it's narrow design lets it easily hide behind furniture without preventing me from plugging anything into it. It's one of those rare accessories that just works without needing too much attention or fuss, which makes it an essential smart home device.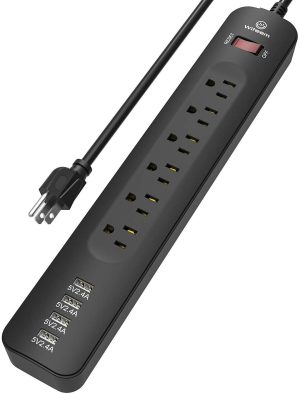 Witeem Surge Protector
iRobot Roomba 675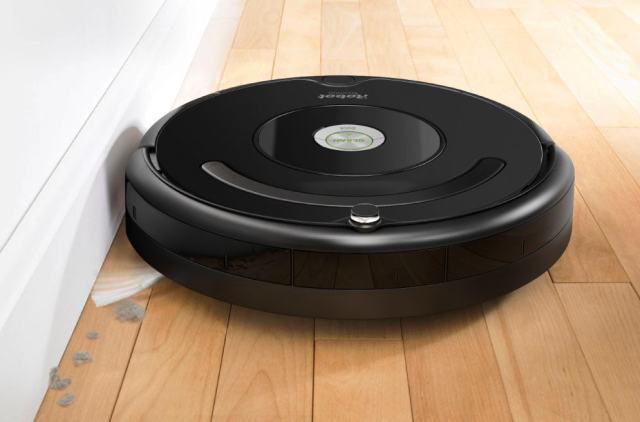 If you want to eliminate one piece of the household cleaning puzzle, a robot vacuum like the iRobot Roomba 675 will do the trick. As someone who has had a Roomba for over a year, I can say that my robot cleaner continues to impress me now as much as it did when it was brand new. The Roomba 675 works on both carpets and hard floors, sucking up any dirt and debris that gets in its way. Its edge-sweeping brush also does a good job picking up debris around the edges and corners of furniture—things that would be missed if the circular robot vacuum didn't have such a feature.
You can turn on the Roomba 675 by pressing its main top button, or you can program it to turn on at certain times from within the Roomba mobile app. This is a good strategy for busy users—instead of manually starting the device when you need to clean, set the Roomba on a schedule so it cleans your entire home every Wednesday at 11am, for example. This model cleans for roughly 90 minutes before it automatically returns to its dock to charge up.
For those skeptical that a robot vacuum can clean as well as a handheld machine—I can say from experience that it does the trick. I run my Roomba at least once per week, and it captures more dust than I can even see on my floors and carpets. I also have one cat and the Roomba has triumphed over the remnants of her excessive shedding. The Roomba 675 is a good gift option if you want to give a loved one the relief of knowing they have one less household chore to worry about.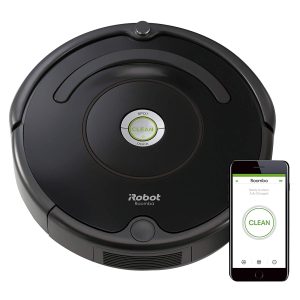 iRobot Roomba 675 robot vacuum
Amazon Fire TV Stick 4K media streamer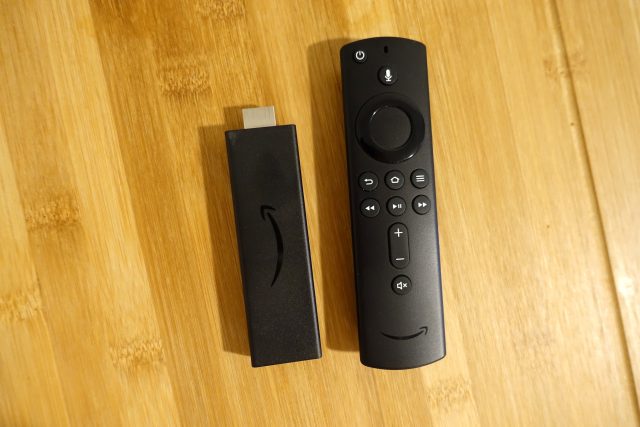 If your loved one is ready to cut ties with cable but doesn't want to use a game console or a TV's built-in apps to watch their shows, consider giving them the Amazon Fire TV Stick 4K. It requires a TV that supports 4K and HDR in the first place to really work—get the standard Fire TV Stick if your loved one doesn't plan to have that in the future—but it supports all the major HDR formats they could find, along with all the major apps they could want to stream to begin with. It's a powerful piece of hardware that runs quickly and supports fast 802.11ac WiFi. Its voice search qualities are more robust than similar media streamers, too, and as a streaming stick it remains easy to pack up and use in hotels when needed.
The knock on the Fire TV Stick is always that its interface is sloppier than that of an Apple TV or Roku device, with duplicate app icons in some spots and a general push toward Amazon's own first-party content. That's not wrong. But it's still far from obtuse for those who simply rotate between a list of favorite apps, and if your loved one uses Prime Video, having that content promoted more aggressively is less of a problem. Get a device like the Roku Ultra if your recipient needs an Ethernet port, but for most we think the Fire TV Stick 4K will make it easy to cut off cable.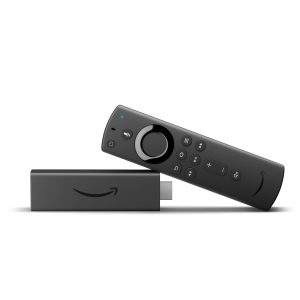 Amazon Fire TV Stick 4K
Blink XT2 cameras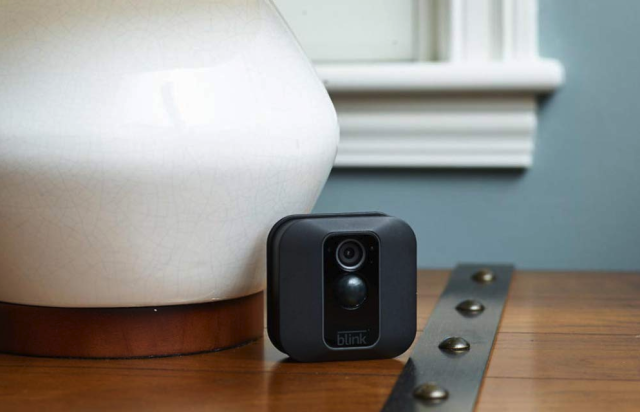 If someone in your life wants more security in their home but doesn't know where to start, Blink's XT2 cameras could be a good option. We like them for a few reasons: first, they're small and cordless, making them convenient to place throughout your home. You could just have one Blink camera facing the inside of your front doorway, or a couple cameras spread throughout different rooms of your home. Almost anywhere you'd want them, they can fit thanks to their 2.8 x 2.8 square frames.
Second, they're powered by 2 AA batteries each that will last up to two years before you need to change them. That's impressive considering Blink XT2 cameras support 1080p video recording, motion detection, two-way audio, and live stream mode. Two-way audio lets you speak to whomever you see at the other end of your camera through the Blink mobile app, and live stream mode lets you see what's happening in your home in real time.
Third, Blink XT2 cameras are good for indoor or outdoor use as they are IP65-rated and can withstand the elements. We also appreciate that Blink doesn't have subscription fees or monthly contracts—all you need is a hub to connect all your cameras and a little bit of space in your home to get peace of mind when you're away.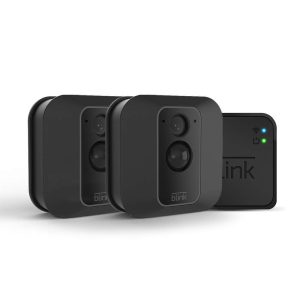 Blink XT2 2-camera kit
Sonos Beam soundbar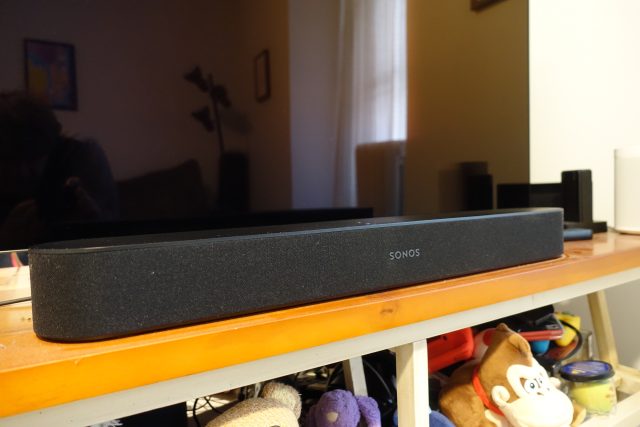 A soundbar is the simplest way to improve upon the typically tinny speakers built into most TVs by default. For those who want that soundbar to double as a smart speaker a la the Google Home or Amazon Echo, or just those who have already bought into the Sonos ecosystem, the Sonos Beam is well worthwhile. At 25.6 inches wide, it should be compact enough to fit in rooms outside the living room if needed. But it does play big for its size, with a nicely wide soundstage and more than enough volume for most people. It has a neutral, if somewhat bright, sound that does well to not emphasize one part of the mix too much more than the others. The result is something that reproduces most music faithfully and makes movies and TV shows feel appropriately large.
The Beam is not without flaws. It's a 3.0-channel soundbar, so you don't get much in the way of deep sub-bass unless you add a wireless subwoofer. Sonos sells one in the Sonos Sub, but it costs a whopping $ 700. There's no Bluetooth audio streaming support. Nor is there Dolby Atmos support, with something close to surround sound only possible after adding satellites such as additional Sonos One SL speakers.
The reason someone would want this, outside of the strong sound for its small size, is the fact that it's as simple to manage as any other Sonos speaker. It slides easily into any existing Sonos system, so if your loved one has that—and you have the cash—it's a no-brainer as a first soundbar. You can still connect dozens of streaming services to the Sonos app and fire them off to the Beam from phone or laptop. It supports Apple's AirPlay 2 protocol, so anyone with an iOS device can send whatever they're playing directly to the speaker. And it can be used with either Alexa or the Google Assistant, which lets it do most of the things Amazon- or Google-made smart speakers can do. It also looks rather discreet. There are cheaper soundbar setups with full surround sound, but the Beam's smarts and convenience make it a relatively hassle-free way into better TV sound.

Sonos Beam
Bose SoundWear Companion speaker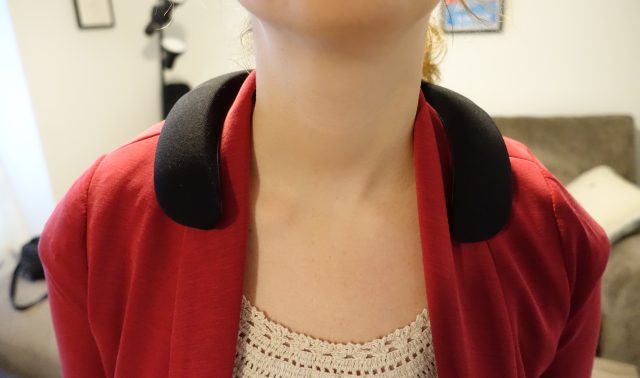 We won't pretend that a wearable speaker like the Bose SoundWear Companion is for everyone. It undeniably looks goofy, it'll probably feel weird at first, and Bose's model here costs $ 300. But as a way to bring music or podcasts with you around the house without isolating yourself the way traditional headphones do, it's a surprisingly pleasing experience.
It sounds great, for one: it does some serious digital signal processing to push audio up from your shoulders, but it has that very Bose-like smoothness that makes tracks of all sorts go down easy. Treble is clear and crisp; vocals and other mids are solidly full. It has a somewhat lighter quality in that it doesn't produce much sub-bass, but what's there isn't represented poorly, and not having a speaker rattling your neck might be for the best for the user experience anyway. (Bose lets you manually adjust bass intensity through a companion app as well.)
It's not as good as a pure speaker like the Sonos Beam above—it gets harsher at maximum volumes, leaning your head too far in one direction might imbalance the profile, and since it connects via Bluetooth, all of this praise is relative. But its sound is clean for what it is, and the way it envelops your head in audio is uniquely absorbing. Beyond that, it gets a good 10-12 hours of battery life, it's not heavy on the neck (at 0.57 lbs), and it's IPX4-rated, giving it a modicum of sweat resistance. It does use microUSB instead of USB-C, though, which unfortunately increases its total recharge time.
The SoundWear Companion is more or less useless in public or any loud settings, which is why we recommend it in a guide for home tech. But for those who like some audio to accompany them while cooking, tending to the garden, working in the garage, or what have you, we found its convenience and quality to rise above its weirdness.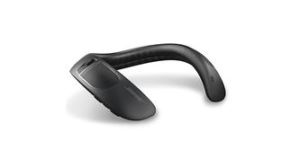 Bose SoundWear Companion